STICK IT THIS WAY
I arrived too early at my office today 'bout 8.10am. So, still have 50 minutes before the manager came and unlocked the office door. While waiting, i was thinking to have a cup of
Teh Tarik
for my breakfast.
On my way to the mamak stall near by.. a well-parked proton iswara caught my attention..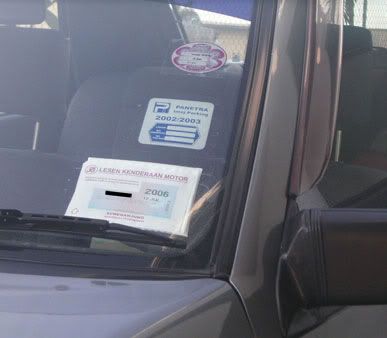 I like the way the owner of this car stick the car roadtax.
I'm very thankful, i brought my digital camera.. to post this photo up. Yah! Instead of tearing off the roadtax, maybe we should stick them all together using a double tape.. erm, what a gud idea. At least the traffic police can see the "LESEN KENDERAAN MOTOR" clearly.. obviously.