We're moving next door
This saturday ( 14th May 2005 ), our company will be moving to our new office.. just next door :)
So I jump and shout..
YAY!
probably because :
- The new office is bigger!
- The aircond might be cooler.. for sure!
- I will sit next to the glass window, maybe...
- I can see outside clearly to make sure whether it's raining or not
- This saturday, I'm not working.. coz I'll be going to attend a training class in KL.. :)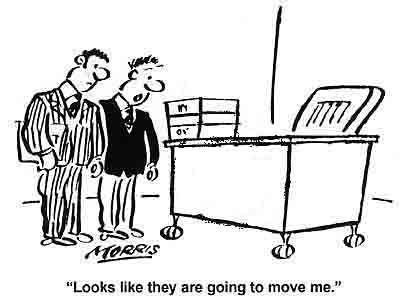 Taken from The Joys of Moving Office?:

Moving house is second only to bereavement in the top ten list of most stressful events. Moving office, or moving within an existing office (churn) can exert the same strain on an organisation, with all the wasteful. unpleasant and possibly destructive symptoms...
------------------
p/s: Again.. I'm thankful, for every breathe i take.. thank HIM!