PHISHING?
I received an email from "RHB BANK" this morning:
It's written:
We recently reviewed your account, and suspect that your RHB Bank Online account may have been accessed by an unauthorized third party. Protecting the security of your account is our primary concern. Therefore, as a preventative measure, we have temporarily limited access to sensitive account features.

To restore your account access, we need you to confirm your identity, to do so we need you to follow the link below and proceed to confirm your information:

https://www.rhbbank.com.my/cgi-bin/imcpprd. dll/Ctrl.jsp?BV_UseBVCookie=yes

Thank you for your patience as we work together to protect your account.

Sincerely,
RHB Bank Customer Service



*Important*


Please update your records on or before 48 hours, a failure to update your records will result in a temporal hold on your funds.
So i clicked on the hyperlink given and i was directed to this page :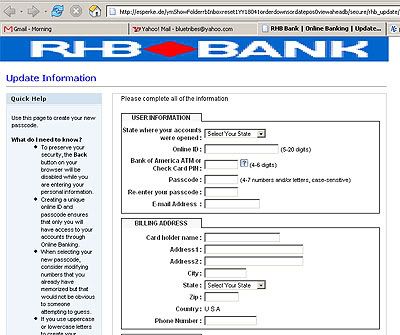 View the site
Something's wrong. This is what we call
PHISHING
. Instead of an Official
RHB BANK website
, i was directed to other website in order to steal my confidential information, such as bank account number, PIN etc.
What is phishing?
Phishing



Pronounced "fishing," it is a scam to steal valuable information such as credit card and social security numbers, user IDs and passwords. Also known as "brand spoofing," an official-looking e-mail is sent to potential victims pretending to be from their ISP, bank or retail establishment. E-mails can be sent to people on selected lists or on any list, expecting that some percentage of recipients will actually have an account with the real organization.



E-Mail Is the "Bait"



The e-mail states that due to internal accounting errors or some other pretext, certain information must be updated to continue your service. A link in the message directs the user to a Web page that asks for financial information. The page looks genuine, because it is easy to fake a valid Web site. Any HTML page on the Web can be copied and modified to suit the phishing scheme.
Source
__________________________
P/S: Be careful, email is the "Bait". Don't ever believe whatever email that asking you to update your PnC information by clicking the hyperlink given in it. No such thing. I'm sure, RHB BANK will not contact their customer by emails. Other banks too. Remember.
That's my two cents.